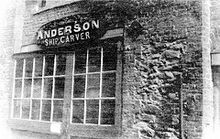 A selection of Andersons' tools and products are on display in the Wood section of the 'What Makes Bristol, and What Bristol Makes' case in the People Gallery.
Williams & Anderson were well established wood carvers that started in the ship-carving tradition. They also went under the names J. R. Anderson (1889 - 1900) and Arthur Ernest Anderson (1919) (UoG, 2011)
Arthur Anderson was the son of John Anderson of 3 Commercial Row, Hotwells, finest of the woodcarvers who made figureheads for the sailing ships that once filled Bristol Harbour. The Andersons' uncles, the Williams brothers, had carved figureheads for most of the wooden ships built in Bristol during the 1840s and 50s, including the figurehead for the s.s. Demerara.
By the time Arthur joined the business, the market for ships figureheads was nearly dead so he turned to carving fairground carousel figures instead. He turned out dozens of superb animals for fairs all over Britain until the business closed in 1936, and it is said that English fairground horse also died at this point.
On July 28, 1936 the estate of Arthur Anderson was sold at auction by a local company William Cowlin and Son, Princess Victoria Street, Clifton.
According to the National Fairground Archive:

"Their carved Galloper mounts were known for the burgeoning scrollwork under the animal's belly, complete with Italianate grotesque grins upon its flanks and a flying ribbon frozen onto the neck, lettered with name of a famous horse or friend. Later worked transmogrified even further, with animals heads carved into the body work creating a dream-like, surreal effect similar to the uncomfortable prose and jarring effects written by Lautreamont who twists the rules of nature to create fanciful cross-breeds and representations" (Cameron, 2009).
The photograph shows the final location of the workshop at Rownham Place, which was on the junction of Hotwell Road with the Cumberland Basin.
Locations
Edit
Located at Gas House Road Hotwell Road Bristol  1870
Located at Limekiln Dock Passage Canon's Marsh Bristol 1889
Located at Hotwell Road Bristol  1900
Located at Rownham Place Hotwell Road Bristol  1919
Ad blocker interference detected!
Wikia is a free-to-use site that makes money from advertising. We have a modified experience for viewers using ad blockers

Wikia is not accessible if you've made further modifications. Remove the custom ad blocker rule(s) and the page will load as expected.