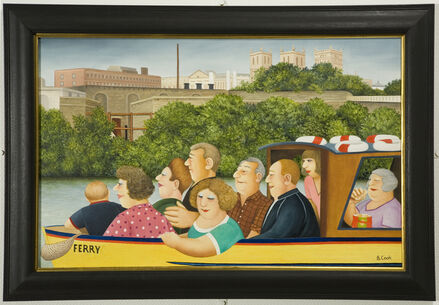 The Ferry, 2001, by Beryl Cook (1926-2008).
This lively scene was inspired by Beryl Cook's fondness for Bristol's waterfront. In the background are buildings that can be seen along the Floating Harbour. A ferry service transports commuters and sightseers along the harbour seven days per week.
Until fairly recently ferries took passengers and goods from one side of the river to the other between two fixed points. Wherries, on the other hand, took passengers and goods up and down it, from Bristol Bridge to Cumberland Basin, stopping at any of a number of places, like a request bus. Bristol's modern ferries have more in common with wherries because their main role is to move passengers up and down the harbour.
Ad blocker interference detected!
Wikia is a free-to-use site that makes money from advertising. We have a modified experience for viewers using ad blockers

Wikia is not accessible if you've made further modifications. Remove the custom ad blocker rule(s) and the page will load as expected.