Information on Wills' East Street Factory is on display in the 'places of work - factories and offices' display in the Places Gallery. The East Street and Hartcliffe factories can also be seen in photographs in the Bedminster and Hartcliffe neighbourhood sections, respectively, in the Places Gallery
Portraits of long-serving Wills employees
William Masters Davies
and
Miss Ellen Williams
are on display in the
Life Gallery
.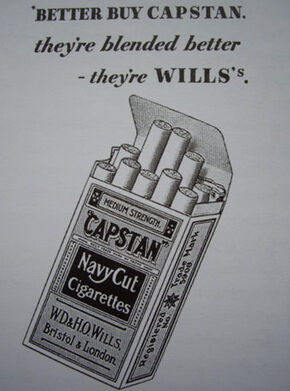 The Wills family pioneered canteens for the workers, free medical care, sports facilities and paid holidays in their tobacco factories. The company was co-founded by Henry Overton Wills in 1786 under the name, 'Wills, Watkins & Co.' One of its first tobacco brands was 'Bristol', made at the London factory from 1871 to 1974. 'Three Castles' and 'Gold Flake' followed in 1878 and 'Woodbine' ten years later. 'Embassy' was introduced in 1914 and re-launched in 1962 with coupons.
The Wills family are also known for their progressive employment culture. By 1891, all employees with at least one year's service were allowed at least one week's paid holiday, which was not widespread in the UK until the 1930s. Workers also enjoyed a range of welfare benefits including a company doctor, a sickness benefit scheme and very generous pensions. By the 1880s, subsidised meals were commonplace.
The business had factories and offices in Bristol, Swindon, Dublin, Newcastle and Glasgow. In Hartcliffe, they built largest cigarette factory in Europe. It was designed by Skidmore, Owings & Merrill in 1974, but closed in 1990. The large factory and warehouse buildings remain prominent buildings in Bristol, although much of the existing land and buildings have been converted to other uses. The Wills Memorial Tower on Park Street and the Tobacco Factories of East Street and North Street in Bedminster are architectural legacies of the Wills family and the city's history in the tobacco trade.
In 1901, W.D. & H.O. Wills merged with seven other British tobacco companies to form the Imperial Tobacco Company. Imperial remains one of the world's largest tobacco companies. The last member of the Wills family to serve the company was Christopher, the great, great grandson of H.O. Wills I. He retired as sales research manager in 1969.
In 1988, Imperial Tobacco withdrew the Wills brand in the United Kingdom except for the popular Woodbine and 'Capstan Full-Strength' brands, which still carry the name.
Anecdote
A visitor worked at Wills Tobacco in the cigar section for 10 years in the 1970's.She made cigars and was also a guide who showed people around the factory. If they fulfilled their weekly quota they received a bonus. At the end of the day the floor was swept and any fallen tobacco was used the following day -nothing was wasted