Thomas Chatterton was born in Bristol in 1752. His father died four months before he was born so his mother established a girls' school and took in sewing.
Chatterton was sent to Colston's Hospital School at the age of 8. In the Life Gallery there is a register in the school section that records his admission to the school on 3 August 1760.

In his teens he claimed to have discovered ancient verses by a medieval monk called Rowley in St Mary Redcliffe church, Bristol, where his uncle was responsible for the church buildings and graveyard. Scholars considered them to be genuine but in fact the young Chatterton had written them himself. He moved to London at the age of 16 where he wrote for various journals and magazines. At the age of 17 he died, most likely due to suicide but some think it could have been an accidental overdose.
His work and death have been discussed and portrayed in art ever since - in poems,books and paintings. Some examples of these are "Resolution and Independence" by William Wordsworth, "Five English Poets" by Dante Gabriel Rossetti and the most famous painting of him called "The Death of Chatterton" by Henry Wallis which is in Tate Britain (See image on right).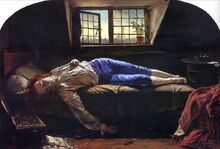 Ad blocker interference detected!
Wikia is a free-to-use site that makes money from advertising. We have a modified experience for viewers using ad blockers

Wikia is not accessible if you've made further modifications. Remove the custom ad blocker rule(s) and the page will load as expected.