Homemaker tableware was a range of mass produced crockery designed by Enid Seeney and manufactured by the Ridgeway Potteries in Stoke on Trent. It was launched in 1957 and was sold by Woolworth's during the 1950's and 1960's.
Homemaker was earthenware transfer printed with a glaze applied on top - this made it relatively cheap to produce and appealed to the mass market.
The design was black on white and featured illustrations of home furnishings such as tripod lights, sofas and armchairs.
Today, it is highly collectible but few pieces are rare.
Anecdote
A couple noticed the bowl in Life Gallery as they collected it during the 1960's. They went to the big Woolworth's in Broadmead and bought one item at a time when they had saved up the money. They had plates,cups, saucers, milk jug, sugar bowl. Apparently the latter two were just plain black.
They have now passed the collection onto their daughter who does not use them as they are not dishwasher proof.
Cereal bowl in Life Gallery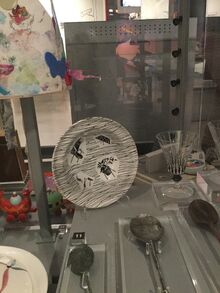 Ad blocker interference detected!
Wikia is a free-to-use site that makes money from advertising. We have a modified experience for viewers using ad blockers

Wikia is not accessible if you've made further modifications. Remove the custom ad blocker rule(s) and the page will load as expected.