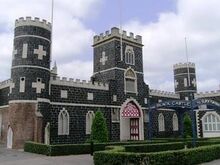 The Black Castle in Brislington was built between 1745 - 1755. It was designed by William Halfpenny and James Bridges. It was built as a folly in the grounds of the Arnos Court Estate for William Reeve who was a local Quaker and businessman.
It was built from pre-cast black copper slag blocks from Reeve's own foundry at Crew's Hole, just a couple of miles away. This black copper slag was a waste product so it solved the problem of disposing of it. The 18th Century writer, Horace Walpole called it 'the Devils's Cathedral'.
Reeve went bankrupt in 1775 and his home and business was sold to a member of the Tonge family who were slave traders.
Today, the Black Castle is a Grade 1 listed building and is now a busy,family pub. It is no longer surrounded by trees and fields but now sits alongside car showrooms, Sainsbury's and a busy road.
Ad blocker interference detected!
Wikia is a free-to-use site that makes money from advertising. We have a modified experience for viewers using ad blockers

Wikia is not accessible if you've made further modifications. Remove the custom ad blocker rule(s) and the page will load as expected.