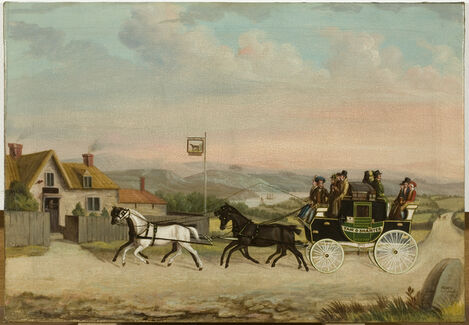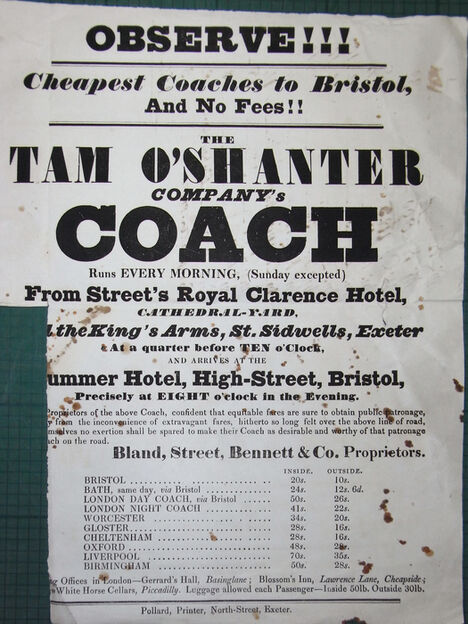 This info is on display in the Moving by Public Vehicle display in the Places Gallery
Following the reforms of the postal delivery service at the end of the 1700s, horse-drawn post coaches, such as Tam O' Shanter, carried passengers as well as mail. These coaches were the fastest and most efficient form of long distance public transport. In 1837, the Tam O' Shanter was on the Bristol to Exeter run. By the 1830s, this form of public transport was a punctual and efficient service (during the 'golden age' of coaching); however, the steam-powered locomotive soon superseded it.
The name Tam O' Shanter is taken from the Robert Burns poem of the same name. It alludes to the coach's reputation for speed. In the poem, Tam escapes from witches owing to the speed of his horse; the painting in the museum's collection, dating from 1837, develops this theme further, with the fictional characters Tam and his drinking partner 'Souter Johnny' depicted as passengers in an otherwise historical representation of the coach.
Ad blocker interference detected!
Wikia is a free-to-use site that makes money from advertising. We have a modified experience for viewers using ad blockers

Wikia is not accessible if you've made further modifications. Remove the custom ad blocker rule(s) and the page will load as expected.