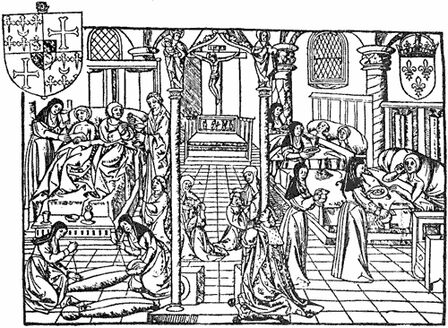 This info is on display in the Welfare section of Places Gallery
St Bartholomew's Hospital was established in the late 1200s by John de la Warre. It was a place where travellers could shelter, and the poor, elderly and sick could be cared for.
The impoverished hospital was built on a small scale. By the 1300s it seems to have had a guesthouse, refectory and kitchen, bakehouse, granary, separate dormitories for men and women and a burial ground.
Men and women were resident at the hospital, headed by a secular chaplain Master, and staffed by priests and monks.  During the 1300s a succession of female Prioresses ran the hospital, until it was decided in 1386, that only male priests should be in charge.
It was closed in 1532 shortly before the Dissolution of the Monasteries, when the Grammar School was established on the site.
Ad blocker interference detected!
Wikia is a free-to-use site that makes money from advertising. We have a modified experience for viewers using ad blockers

Wikia is not accessible if you've made further modifications. Remove the custom ad blocker rule(s) and the page will load as expected.