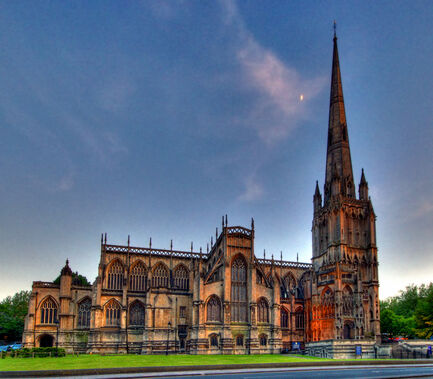 The parish church of St Mary Redcliffe is one of the most iconic places of worship in Bristol. On a visit to Bristol in 1574 Queen Elizabeth I is reported to have described it as 'The fairest, goodliest and most famous parish church in England'.
It was built on the site of an earlier church sometime in the 1100s and became an important place of worship for sailors leaving and returning to the port. Much of the building that can be visited today was funded by wealthy merchants and built between 1292 and 1370, though the interior was not completed until the 1400s.
Disaster struck in 1446 when lightning destroyed the original spire of St Mary Redcliffe and much of the church's interior. The Reformation and Civil War also damaged the church's fine interior.
In 1848 a group called the Canynges Society formed to try to restore the church's former medieval splendour. The spire was restored in 1872 by architect George Godwin and based on information obtained from master mason John Norton, as recorded by William Worcester in 1448.
The Canynges Society re-formed in 1927 and is still active today raising money to support the upkeep of the church and its churchyard.
Ad blocker interference detected!
Wikia is a free-to-use site that makes money from advertising. We have a modified experience for viewers using ad blockers

Wikia is not accessible if you've made further modifications. Remove the custom ad blocker rule(s) and the page will load as expected.