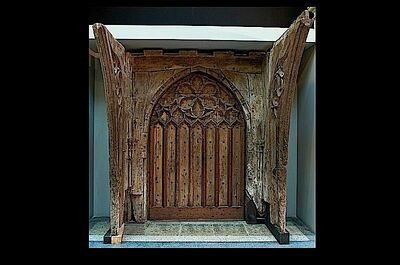 This oak doorway was the entrance to Spicer's Hall a mediaeval merchants town house on Welsh Back it was lived in by Richard Spicer three times mayor of Bristol and MP the building and its fine gothic ornate doorway was also designed by him. He gifted his home to Mayor and corporation of Bristol in 1377 and from 1459 the hall was used for goods imported into the city by non Bristolians prior to sale. (Photo of Spicer's Hall door during Demolition 1885) .The front of the Building was demolished in 1885 for improvements to Welsh Back and the oak door and porch was demolished. The rest of the building survived until the Bristol Blitz of 1940.The hall was also at one point home to the Merchant Venture's society a prestigious society originally involved with the cities shipping trade. Another Wealth merchant called Robert Sturmy lived there in the 15th century. On The site now is contemporary flats and a café.
EMU Description
Edit
'Spicer's Doorway': An oak door frame: .1 and .2: Oak door frame consisting of left and right side. Each consist of door
jambs with shallow moulded ogee, at right angles to this the shallow pointed arch door frame, in corner between
moulded pilasters. .3 and .4: Oak door surround in two halves with a pointed arch. Each half is curved: open-work
arched window, at base ogee arch with rosette above. Circles with three interlocking paisleys, another paisley to fill
space; side with board protrusion along top which presumably slots into lintel. Some repairs made. .5: Oak door lintel
with three tenons on upper surface. Lower surface recessed to make shallow straight-sided pointed arch with central
keystone moulding of wood. Large mortice holes for joints of jambs. .6: Main door and frame section that is on display in M Shed

== Anecdotes ==
-David Singleton said that the tracery on the door, which doesn't fit quite correctly, is actually from a door that had been part of St. Augustine's abbey. at the point of dissolution the owner of the hall decided it would look good on his door and tacked it on.