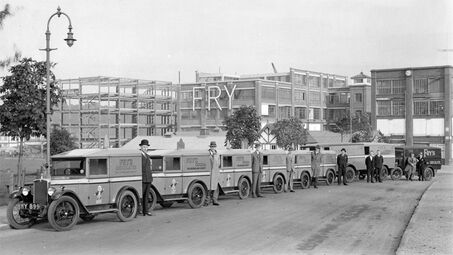 Fry's bought a 228 acre greenfield site at Keynsham in 1921 and named it Somerdale through a national competition in 1923.  The state of the art factory was open to the public, who could see the whole process and travel home with souvenir chocolate.
The move to Somerdale was also about quality of life for employees.  The country location offered a healthy environment with plenty of room for recreational facilities and decent homes in the proposed Somerdale village. 
Early in October 2007 Cadbury announced plans to close the Keynsham factory, moving production to factories in Poland and Bournville.
When Kraft Foods launched their takeover of Cadbury Schweppes they initially stated that they would keep the factory open but later reversed their position, saying that plans for closure were too far advanced.  The factory closed in March 2011.
Current proposals for re-developing the site would retain the Fry Club and sports facilities, but lead to the demolition of the historic factories.  
Ad blocker interference detected!
Wikia is a free-to-use site that makes money from advertising. We have a modified experience for viewers using ad blockers

Wikia is not accessible if you've made further modifications. Remove the custom ad blocker rule(s) and the page will load as expected.