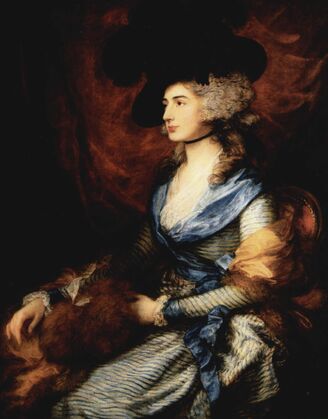 Actress Sarah Siddons is said still to appear at the Bristol Theatre Royal, over 200 years after her last performance there. Her ghost is reputed to haunt the wings of the stage.
Whether or not this is true, Siddons made a tremendous impact on Bristol theatre-goers in the 1770s. The beautiful and vivacious actress was infamous for moving even the hardest hearts to tears, the highest accolade an actor or actress of tragedy could aspire to.
Siddons had fled to Bristol and Bath in 1779 after scathing London reviews, in order to practice her craft before chancing her reputation further in the capital. During this time the theatres in Bristol and Bath operated under single company, playing the two venues on alternate nights. The performers constantly travelled back and forth between the two by means of a special stage coach designed for the purpose by the manager. Of this period Siddons would recall
'Hard labour indeed it was; for after the rehearsal at Bath on a Monday morning, I had to go and act at Bristol in the evening of the same day, and reaching Bath again after a drive of twelve miles, long after midnight, I was obliged to represent some fatigueing [sic] part there on the Tuesday evening.'
She followed this tiring pattern for 3 years, performing up to 30 roles a season (admittedly at a very handsome wage of £3 a week). She was said to have  greatly improved during this engagement and returned to the London stage to great acclaim in 1782.
Ad blocker interference detected!
Wikia is a free-to-use site that makes money from advertising. We have a modified experience for viewers using ad blockers

Wikia is not accessible if you've made further modifications. Remove the custom ad blocker rule(s) and the page will load as expected.