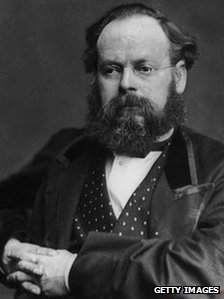 This person is on display in the
Contributing Wrap
in the
People Gallery
(1824-1898)
Politician, Inventor
Born in Bristol in 1824, Plimsoll started off life as a brewery clerk and then as a manager. In 1853, he tried his hand as a coal merchant, a business which left him near destitute. During this period he lived in one of London's lodging houses for working men, where he gained a great sympathy for the struggles of the poor. After picking himself back up, he joined the liberal party and in 1868 was elected MP for Derby.
He used his position to campaign for the rights of sailors, railing against so-called "coffin ships" – overloaded and unseaworthy vessels which often claimed the lives of the men on board. Writing the acclaimed work "Our Seamen" in 1872, he presented this to every Member of Parliament, and by the following year, a royal commission had been set up to look into the matter.  Their findings informed the Unseaworthy Vessels Bill. Plimsoll found the bill inadequate, but he was persuaded to support it and so, despite the influence ship-owners wielded in parliament, Plimsoll's determination and overwhelming public support for the bill meant that in 1875 the Merchant Shipping Act was amended. This gave strong powers of inspection to the Board of Trade and introduced a mark onto the hull of all ships to ensure they were not overloaded - the Plimsoll line.
Plimsoll left parliament in 1880, but continued to campaign for shipping. He died in 1898. He is remembered today by the mark he campaigned for, still present on the hull of every ship, and busts of him erected in London, and in Bristol looking out over the harbour from Hotwells.