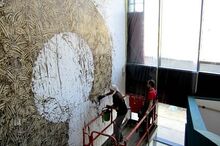 Richard Long is a photographer, sculptor, painter and a user of text. He became associated with Land Art in the 1970's.He was born in Bristol in 1945 where he still lives and works today. He studied art in Bristol and in London at St Martins School of Art. He has been shortlisted for the Turner Prize four times and won it in 1989.
His art practice involves walking - he marks the ground or adjusts natural features. He usually works in the landscape but also uses natural materials (mud,wood and stone) in the gallery - an example can be found in the west foyer at MShed. For this work he applied wet mud from the River Avon directly onto the wall with his hands (see image - creating the "River Avon Muddy Water Circle, 2011)
In 2015 (June to November) Richard Long has a major show at Arnolfini and a commission on the Downs called "Boyhood Line".
Ad blocker interference detected!
Wikia is a free-to-use site that makes money from advertising. We have a modified experience for viewers using ad blockers

Wikia is not accessible if you've made further modifications. Remove the custom ad blocker rule(s) and the page will load as expected.