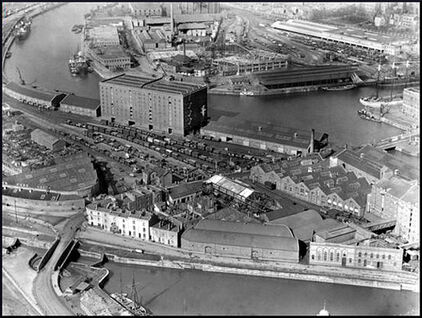 The Wharf was created in 1872 to provide railway access to the quayside but despite the presence of four surviving landmark cranes there is little evidence of its previous working life. The wharf was partly demolished in 1888 to make way for the Corporation granary that was during World War 2, and afterwards two large state-of-the-art general cargo sheds, 'L' and 'M', were built here. They were used from 1952 onwards and business boomed. During the 1960s Princes Wharf was a hive of noise, bustle and activity with towering cranes winching crates of cargo from vessels docked at the quayside. Anything from barrels of Guinness to pallets of timber, paper-pulp, beef and linen were hoisted onto awaiting lorries, railway wagons, barges or forklift trucks, either for temporary storage at the adjoining transit sheds or for distribution around the country. Unfortunately by the late 1960s the port was in decline and the City Docks were closed to commercial shipping in 1975.
Ad blocker interference detected!
Wikia is a free-to-use site that makes money from advertising. We have a modified experience for viewers using ad blockers

Wikia is not accessible if you've made further modifications. Remove the custom ad blocker rule(s) and the page will load as expected.