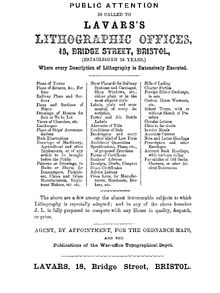 This is a Case in the Places Gallery in M Shed
Used as a backdrop to the Places to Work display case is a map depicting a birds eye view of Bristol. This map shows an angled aerial view of Bristol from the south. Possibly observed from a hot air balloon. The print was originally produced by J Lavars, printers and publishers based in Bristol and operating from 1857 -1904! although research suggests they may have been operating much earlier. I'm unsure of the relationship between J Lavars and Edward C Lavars ( brothers / father son )
Web searches on both names attribute Edward C Lavars as the artist on other prints / images.
Information:
Birds Eye View of Bristol
Chromolithograph by Edward C Lavars 1887
copyright Bristol Museum & Art Gallery M3336
Further Information
Research of the Historical Directories of Special Collections Online (University of Leicester) revealed more information as to the type and location of J Lavars business.
Entry: Slaters (Issac) directory of N&S Wales 1880 (part 2 Shropshire, Monmouth, Bristol & Chester) pg322
Lavars, John. Lithographer, Engraver, Printer & Map Publisher. 51 Broad Street, Bristol. House: Broomcroft,
Apsley Park, Clifton.
Also
Bristol Post Office Directory & Gazateer 1859 ( above right image - tap to expand)
John Lavars, 17 /18 Bridge Street.
Ad blocker interference detected!
Wikia is a free-to-use site that makes money from advertising. We have a modified experience for viewers using ad blockers

Wikia is not accessible if you've made further modifications. Remove the custom ad blocker rule(s) and the page will load as expected.