The fantastic cross city view from the roof-top of MShed isarewarding experience. From left to right one can see : Cabots Tower , St.Georges ( Pepperpot Church) , Bristol Cathedral , Wills Memorial Tower , University Building with 4 turrets ( Institute of Physics, site of the former Royal Fort ), St. Michaels Hospital with chimney , Colston Tower . Blue Radisson Tower.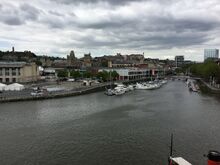 Do give it a go and try drawing the skyline ( silouette ) from the balcony or if the weather is poor from the 1stFloor window.
Ad blocker interference detected!
Wikia is a free-to-use site that makes money from advertising. We have a modified experience for viewers using ad blockers

Wikia is not accessible if you've made further modifications. Remove the custom ad blocker rule(s) and the page will load as expected.