This display is in
Places Gallery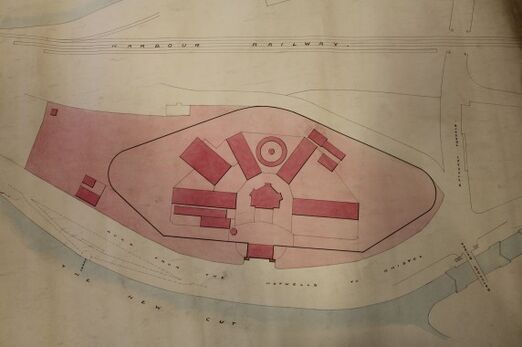 ... for health, convenience, and excellent arrangement is not to be equalled in England, commanding extensive views of the surrounding country. ... The boundary wall (20 feet high) is built of hewn variegated marble from St Vincent's Rocks, which has a beautiful appearance.
Mathews's Bristol, Clifton and Hotwell Guide, 1828.
Bristol New Gaol opened on the Cumberland Road in 1820. Architect Henry Hake Seward was commissioned by the Corporation to design a new state-of-the-art prison in 1816, as conditions in Bristol's other gaols were so appalling. It cost £60,000 (£2million today) to build and was designed to hold 197 men and women in single cells. More attention was paid to prisoner welfare than ever before by supplying inmates with hot and cold water, gas lighting, good bedding and an improved diet. As a result it was considered the most modern gaols of its day and a model to be copied throughout the country. Shortly after it became operational a 'drop' for public executions was ordered. It was used for the first time in 1821 for the hanging of John Horwood.
1849 saw Bristol's final public hanging at the New Gaol. Servant girl Sarah Harriet Thomas, 17, had been found guilty of killing her elderly employer Miss Elizabeth Jefferies - bludgeoning her to death in her own bed. Throughout her trial she had not appeared to treat the court proceedings seriously, but records state that when the Judge put on his black cap and passed sentence she collapsed and broke down completely. 
William Calcraft, the longest-serving executioner in England was contracted to carry out the sentence, but even he was greatly affected by her youth and good looks. On the day of her execution she was dragged screaming to the gallows where she continued to sob, scream and plead for her life right up to the final moment.

The New Gaol was attacked by rioters in 1831 and set on fire but after public order was restored it was repaired and continued to be used until 1883. It was replaced by Horfield Prison in 1884.. After being sold to The Great Western Railway in 1895 all of its buildings, except for its gatehouse that can still be seen on Cumberland Road, were demolished.
Ad blocker interference detected!
Wikia is a free-to-use site that makes money from advertising. We have a modified experience for viewers using ad blockers

Wikia is not accessible if you've made further modifications. Remove the custom ad blocker rule(s) and the page will load as expected.