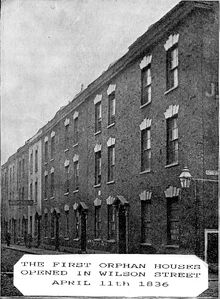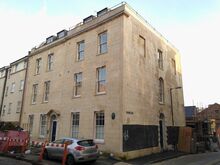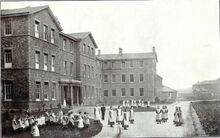 Müller's Orphanage was located first at Wilson Street, St. Paul's, and then in Ashley Down, Bristol. The latter, purpose-built location is synonymous with the orphanage and known as 'Muller Homes'. The children were divided between five Orphan Houses (No.1, No.2 and so on).
George Muller was a Prussian evangelist who opened the orphanage not only to improve the welfare of orphans, who at this time were commonly sent to the workhouse, but to prove that God answered prayer and would furnish him with the means to carry out this work. Muller claimed to have prayed for the funds and donations he eventually received
 Miller and his wife's work with orphans began in 1836 with the accommodation of thirty in their own home at 6 Wilson Street, St Paul's Bristol. Soon after, three more houses on the south side of Wilson Street were used to house 130 children: Number 1 Wilson Street was rented and opened from 28 November 1836, number 3 from 21 October 1837, and number 4 from early July 1843. Mr and Mrs Muller had meanwhile moved in to number 14.[1]  
 Number 1 Wilson Street had previously been the childhood home of Elizabeth Blackwell (1821 - 1910), the pioneering Bristol doctor and first woman to receive a medical degree in the United States.[2] Numbers 1 & 2 Wilson Street are grade 2 listed late-Georgian houses that have been renovated and fitted with a plaque to honour Blackwell [3] after decades of dereliction (they had been on the register of buildings at risk)[4]. The rest of the terrace was demolished in 1994     
 In 1845, after neighbours had complained "in kind and courteous terms" about the inconvenience caused by the presence of so many children in the area, Muller took this as a sign from God that he should purchase land to open a larger, purpose-built orphanage. Thus a home at Ashley Down, designed to house 300, was opened in 1849. By 26 May 1870, 1,722 children were being accommodated in five homes.
The school curriculum consisted of 'Scripture, reading, writing, arithmetic, English grammar, history, geography, Swedish drill and singing. Sewing and knitting were taught to both the girls and boys.
There were three highlights in the year for the orphans: Mr Müller's Birthday, on 27th September, Christmas, and the Purdown Outing. The Outing to Purdown, a mile and a half from Ashley Down, was the summer treat from the earliest days.
The annual outing to Purdown began in the morning, every child carrying a little cotton bag containing sweets and biscuits. The picnic lunch and tea was carried in large hampers and the water for drinking was taken in a water cart loaned by Bristol Corporation. The children from the five Houses mixed freely as they pleased all day, and in the evening the Director and other leading people came to the field. To mark the end of one more 'Pur Down', they released five balloons, one for each House.
Ad blocker interference detected!
Wikia is a free-to-use site that makes money from advertising. We have a modified experience for viewers using ad blockers

Wikia is not accessible if you've made further modifications. Remove the custom ad blocker rule(s) and the page will load as expected.