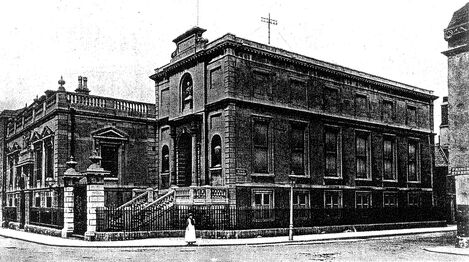 The interior of the building is depicted in the painting 'The Trial of Colonel Brereton After the Bristol Riots 1831', by Rolinda Sharples, which is displayed in the Protesting section in the People Gallery.
The Society of Merchant Venturers consisted of Bristol's richest and most powerful merchants. It was granted granted independence by Royal Charter in 1552 and needed premises to hold meetings and attend to business. Initially they established themselves in the old and somewhat spartan chapel of St Clement. John Latimer, who wrote a history of the society in 1903, described the Merchants' Hall as follows:
There was no covering for the floor, no table cutlery, and no drinking vessels. Eighteen "joyned stools" seem to have been provided for present and past officers; ordinary members were seated upon five homely wooden benches; but thirty-eight cushions, new and old, may have made the planks more comfortable. The walls were decorated with a carving of the royal arms, and coloured emblazonments of the arms of the Prince, the Society, and the City.
In 1720 the building was extensively remodelled and extended to provide a grand and ornate Great Hall and Withdrawing Room - it was an opulent building that advertised the society's power and influence. The hall was used for public banquets, celebration dinners and other civic functions but was destroyed in 1940 during an air raid. Its replacement is situated on The Promenade, Clifton.
The Merchants Hall was used as the venue for the trail of Col.Thomas Brereton after the 1831 reform riots. The interior of this building is depicted in the painting by Rolinda Sharpes of that trial.
Ad blocker interference detected!
Wikia is a free-to-use site that makes money from advertising. We have a modified experience for viewers using ad blockers

Wikia is not accessible if you've made further modifications. Remove the custom ad blocker rule(s) and the page will load as expected.