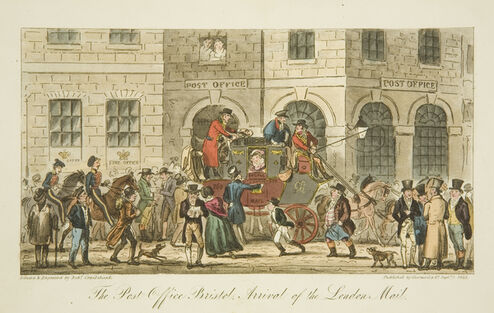 This info is on display in the Moving by Public Vehicle display in Places Gallery
The postal service in the 1700s was slow and inefficient, consisting of relays of post boys on horseback at the mercy of the weather, roads and highwaymen. A letter could take two days to travel from Bristol to London in this way.
Bristol theatre impresario John Palmer revolutionised the postal service by proposing the Royal Mail replace post boys on horseback with armed men on fast, dedicated, lightweight coaches. He complained 'the Mail is generally entrusted to some idle boy without Character, mounted on a worn out Hack who so far from being able to defend himself or escape from a Robber is more likely to be in league with him....'.
He funded a trial run on the Bristol-to-London route in 1784. The coach left the Rummer Tavern on All Saints Lane in Bristol at 4pm, stopped in Bath at 6pm, and arrived at the General Post Office at Lombard Street in London at 9am.  It had completed the 116 miles in a record 16 hours rather than the usual 38, and continued to do so for the whole week of the trial.   Felix Farley's Bristol Journal reported that 'the judicious steps taken to carry on this plan leave no room to doubt of its succeeding much to the satisfaction and benefit of the public'. Within a year all mail routes in England and Wales had adopted the system. For 50 years, until the coming of the railways, mail coaches were the fastest means of transport and communication in England.
Ad blocker interference detected!
Wikia is a free-to-use site that makes money from advertising. We have a modified experience for viewers using ad blockers

Wikia is not accessible if you've made further modifications. Remove the custom ad blocker rule(s) and the page will load as expected.