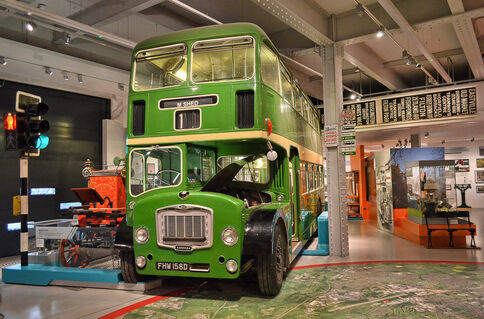 The Lodekka bus was designed in 1949 as a low bridge double-decker bus capable of passing under bridges as low as 4.117m. Most low bridge buses had an offset well in the upper floor and banks of three or four seats to one side only; a long stretch for the conductor collecting fares and passengers leaving the window seats. The Bristol design overcame this problem by offsetting the drive shaft from the engine to the rear axle so that the lower deck floor could be installed closer to the ground than usual. Over the next 19 years, the design was further improved, culminating in the FLF - 'Flat flor, Long body, Front entrance' that was a familiar sight in Bristol and all over the country. Some 5200 Lodekkas of various types were built but production of the type ceased in 1968 when there was a move towards using rear-engined, one-man crew designs.
This bus is an example of the FLF6B type. It is powered by a Bristol BVW oil engine, although many others used Gardner engines. The bodywork on all Lodekkas was carried out by Eastern Coachworks of Lowestoft, and in this form could carry 73 passengers. It was operated on routes all over Bristol by the Bristol Omnibus Company until it was withdrawn in 1983. The Bristol Omnibus Company ceased operation in 1987, a hundred years after it was founded.
The lodekka is on display in the Places gallery in M Shed
New Bus Engines:
9/19/2012
Volvo Buses launches all-new engine range
Edit
by Press release
Environmentally optimised, economical and highly efficient. Volvo Buses is now launching an all-new series of right-sized engines that meet the new Euro 6 requirements. "In general Euro 6 means higher fuel consumption, but thanks to engines with lower weight, smart new alternators and electrification of various components, we've been able to improve fuel efficiency in virtually all our bus models," says Johnny Lidman, Product Manager City buses, Europe, at Volvo Buses.
Volvo's new engine range consists of three models: 5-, 8- and 11 litre engines. All were developed to achieve maximum fuel efficiency while meeting the new Euro 6 norms.  "The new 8-litre engine, the D8, is the first off the mark and it replaces our current 7- and 9-litre Euro 5 engines. Our 7-litre Euro 5 engine is world-leading* as regards fuel economy, the new 8-litre engine maintains that position and at the same time delivers better performance. Compared with the 9-litre engine, it also has far lower fuel consumption and a lower noise level," says Johnny Lidman, Product Manager City buses, Europe at Volvo Buses. 
The new 8-litre engine will be installed in the Volvo 8900 intercity bus and the Volvo 9500 tourist coach. It will also be supplied in chassis for selected bodybuilders.
More powerful hybrid engine  Volvo's new 5-litre engine, the D5, is a more powerful diesel engine for Volvo's hybrid driveline, offering 240 hp (215 hp). This engine will also be used in the new hybrid articulated bus that Volvo will be launching with Euro 6. 
"With the existing Euro 5 engine, our hybrid is already better than a standard diesel-powered Euro 6 bus. With the new 5-litre Euro 6 engine, it's even 'greener'and meets all Euro 6 requirements," says Johnny Lidman. 
The new 5-litre engine will also be used in Volvo's new double-decker, the B5TL, which is being launched in the UK later this autumn. Here the new engine will provide a significant fuel and weight saving compared with the current Euro 5 B9TL.
The new 5- and 8-litre engines Euro 6 will be available in versions that can run on biodiesel.
Proven SCR and EGR technology
Volvo Buses uses SCR (Selective Catalytic Reduction) and EGR (Exhaust Gas Recirculation) systems in the new engine range. This technology has been used for several years by Volvo in the USA and Japan and it has now been further developed for Europe. The new engines also feature diesel particulate filters, essential in order to meet the Euro 6 norms. 
Furthermore, Volvo is introducing a new 11-litre engine for tourist coaches, which will be both more economical and lighter compared with today's 13-litre engine. The new engines will be available on the market in the second half of 2013. 
*According to independent test institute VTT. 
Facts, Volvo's new engine range
5-, 8- and 11-litre engines. All the engines meet the Euro 6 standard and use SCR and EGR technology as well as DPF.
D8  Three models:  • 280 hp 1050 Nm  • 320 hp 1200 Nm (also available in biodiesel version)  • 350 hp 1400 Nm 
D5
• 240 hp 900 Nm (also available in biodiesel version)
D11
Three models: • 380 hp 1800 Nm • 430 hp 2050 Nm • 460 hp 2200 Nm
Bus models that will be available with the new engines:
City buses: Volvo 7900 Hybrid, Volvo 7900 Hybrid articulated bus Intercity: Volvo 8900 4x2, 6x2 Tourist coaches:Volvo  9500, Volvo 9700, Volvo 9900
Download images
Volvo D11 Volvo D8
For more information, please contact:
Helena Lind, Media & Marketing Manager, Volvo Bus Corporation + 46 765 53 62 57
Printer friendly version
- See more at: http://www.volvobuses.com/bus/na/en-us/_layouts/CWP.Internet.VolvoCom/NewsItem.aspx?News.ItemId=130637&News.Language=en-gb#sthash.tbKSVbHj.dpuf
Anecdotes
Edit
A gentleman came in on the 23 June 2015 who used to be an auxiliary conductor on the actual bus on display. For two and half years he regularly did the route from Bath to Bristol which was always extremely busy. He said that you could never get round all the people to get their fares.
An auxiliary conductor was someone who worked in the offices (he worked on schedules and routes) and then they did overtime on the buses either in the evenings or at the weekends. They were unable to get full time conductors at times so this was their solution.
He mentioned that the steering wheel would have been white on this size of bus and not black.
Ad blocker interference detected!
Wikia is a free-to-use site that makes money from advertising. We have a modified experience for viewers using ad blockers

Wikia is not accessible if you've made further modifications. Remove the custom ad blocker rule(s) and the page will load as expected.