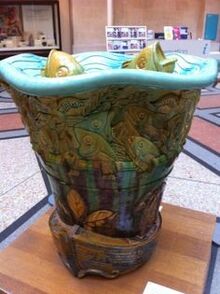 Kate Malone is a ceramic artist from Bristol. She obtained a first class honours degree in Ceramics from Bristol Polytechnic (now UWE). She specialises in large scale works - examples of her work can be found at MShed and Bristol Museum and Art Gallery. (see image on right).
She now lives in London and in 2015 she is a judge on a BBC2 programme called 'The Great British Pottery Challenge' (like the Great British Bake Off but with clay).
Ad blocker interference detected!
Wikia is a free-to-use site that makes money from advertising. We have a modified experience for viewers using ad blockers

Wikia is not accessible if you've made further modifications. Remove the custom ad blocker rule(s) and the page will load as expected.