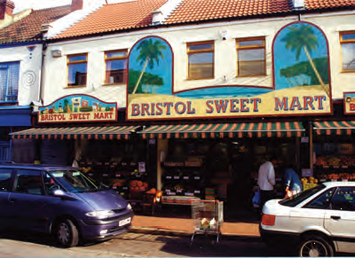 This person is on display in the Contributing Wrap in the People Gallery
(1924-2002)
Kassam Mathoji migrated to the UK with his family to flee persecution from the Ugandan government. With limited funds but a capacity for sheer hard work and a wealth of experience in merchandising, he started his family business with a shop selling Indian sweet meats and home-made foods in Easton. Since then, the business has grown in strength and size. The business, now called 'Bristol Sweetmart' has acquired a deli and sells an array of food and spices from the Indian subcontinent, Africa, the Mediterranean, the Middle East and Asia. Kassam's shop also supplies wholesale products to 40 per cent of all Indian takeaways and restaurants across Bristol and the surrounding areas.
Kassam Majothi passed away in 2002 and is commemorated by a blue plaque in St Mark's Road, Easton. His four sons, daughter and grandchildren continue the Sweetmart legacy.
Ad blocker interference detected!
Wikia is a free-to-use site that makes money from advertising. We have a modified experience for viewers using ad blockers

Wikia is not accessible if you've made further modifications. Remove the custom ad blocker rule(s) and the page will load as expected.