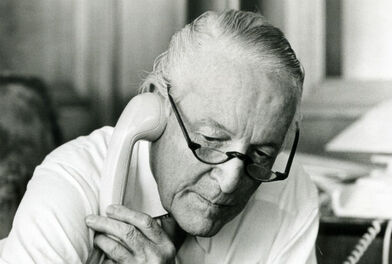 This person is on display in the Contributing Wrap in the People Gallery
(1906-1996)
"Why wait to give money away, why not do it now?" became entrepreneur John James' philosophy. Born in 1906, he grew up in Bedminster and when he was 12 his mother died suddenly. As his father worked long hours at Avonmouth Docks, John looked after the home while studying at the Merchant Venturers' School where he had a scholarship.
He sold wild blackberries to buy football boots and, leaving school at 15, joined the Royal Air Force where he gained the skills needed to become a radio salesman. His father had saved all the money John had sent home while in the RAF for him to start a business, but this was put on hold by World War II.
Returning to Bristol after the war, with his wife and their four children, John set up a radio shop in Broadmead. By offering his customers part-exchange and credit facilities, John made new radios affordable for all and soon became the biggest radio retailer in England.
In 1953, the BBC's live television broadcast of the Coronation meant for the first time television viewers exceeded radio listeners.  To get televisions into as many homes as possible, John offered customers the chance to rent a television. When in 1959 John sold his Broadmead Group, it was the world's largest single ownership TV and radio business, worth £5.8 million, that is £50 million in today's currency.
Ad blocker interference detected!
Wikia is a free-to-use site that makes money from advertising. We have a modified experience for viewers using ad blockers

Wikia is not accessible if you've made further modifications. Remove the custom ad blocker rule(s) and the page will load as expected.