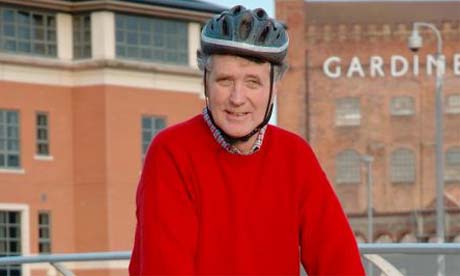 This person is on display in the Contributing Wrap in the People Gallery
(1945 - )
John Grimshaw is a civil engineer and founder of Sustrans. Earlier in his career, John held rallies to attract support for the creation of cycle paths but realised they had no impact on local government. He therefore decided with other enthusiasts to build cycle paths.  John leased the old railway from Bristol to Bath for £1 per year and with the support of Avon County Council built the cycle path in 1977. 
John has incrementally supported the development of cycling routes across the South West from Bathamption to Devizes, used by both cyclists and pedestrians. John also made links with the National Trust and Job Creation Scheme.
He was asked by the Countryside Commission to buy the York to Selby railway line, and agreed before setting up the charity Sustrans to manage the project. This was their first large project outside Bristol. Later John was invited by the Lothian cycling group to build a mile long cycle path in Pilton, which they achieved in one week with help from Bristol volunteers. They later tackled routes all over Lothian and were asked by the government to study the use of disused railways in Scotland.  They have also supported initiatives in schools.
Sustrans change to a membership organisation was facilitated by Carol Freeman and quickly reached 10,000 members.  In 1995 with National Lottery funding the National Cycle Network was set up as a Sustrans initiative to cover all of the UK.
John has campaigned for sustainable, environmentally-friendly urban planning that supports communities, cyclists and pedestrians. Throughout his career, he has championed cycling and walking projects that make a real difference to the opportunities and quality of life for local people across the country.