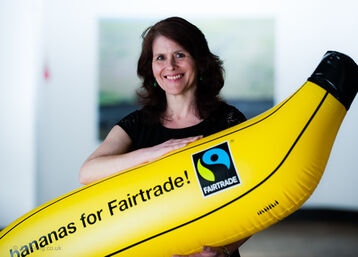 This person is on display in the Contributing Wrap in the People Gallery
(1967- )
Jenny was born in Hertfordshire and grew up in Essex. She went to the University of York, and worked in London for 10 years in community care before moving to Bristol in 1998. Over the past 20 years, Jenny has been committed to the Fairtrade movement.
She first worked as a Tradecraft rep, selling Fairtrade goods at her local church. She later ran a Fairtrade cafe in Bishopston for 3 years before becoming Fairtrade Co-ordinator in 2006.
Jenny expresses her commitment to Fairtrade as "something ordinary people can do to make a difference in the world without waiting for governments to solve the problem of world poverty." Her dream is that Fairtrade will eventually bring a fair trading system where every person receives a living wage with no need for aid or room for exploitation.
As chair of the Bristol Fairtrade Steering Group, she started the Fairtrade Business awards in Bristol to get more local businesses stocking and selling Fairtrade products. She also hosted a Fairtrade coffee producer from Sopexcca Co-operative in Nicaragua for the Fairtrade Fortnight campaign in 2014. As a result of active campaigning, Bristol will host the International Fairtrade Conference in 2015.  Jenny has helped place Bristol in the forefront of the Fairtrade campaign in the UK with a growing reputation in Europe and around the world.