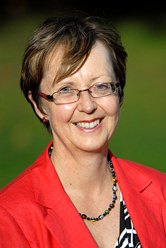 This person is on display in the Contributing Wrap in the People Gallery
(1939 - )
Janet Scammell was born in Bristol in1939. She started voluntary work while working at Avon County Council and later became a support worker for clients attending day centres in the area.  By 1990, she was medically retired.
Janet developed a commitment to and expertise for disability and equality issues, which spurred her on to work both locally and nationally.  She has successfully campaigned on transport issues while volunteering with The Disabled Drivers Motor Club (DDMC).  She and her husband have helped to run a popular 'Caravan and Campers' section, and have organised three rallies a year for disabled members and their families. For 12 years, Janet served on the national committee and many know her as the editor of their popular magazine, 'The Disabled Motorist'.  This work along with her extensive involvement with Shopmobility (a scheme that lends wheelchairs and scooters to people with limited mobility to enable them to shop and to visit leisure and commercial facilities within their area) resulted in her being awarded an MBE in 1999.
Janet has continued to work tirelessly with many local organisations including Arthritis Care, Disabled Living Centre (DLC) and the West of England Centre for Inclusive Living (WECIL) of which she was Chair until 2009.  Currently, Janet still remains as a trustee with DLC, is Chair of Shopmobility and the Bristol Physical Access Chain.