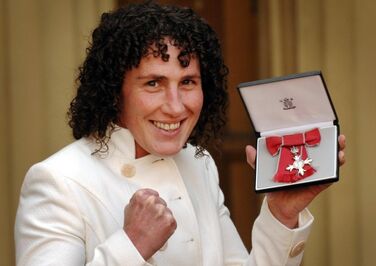 This person is on display in the Contributing Wrap in the People Gallery
(1968 - )
In 1998, Jane Couch became the first officially licensed female boxer. The Fleetwood Assassin, as she became known, travelled the world winning 5 world titles along the way.
Initially, the British Boxing Board of Control refused to grant Couch a professional licence on the sole ground that she was a woman. Fighting for gender equality, she claimed sexual discrimination and supported by the Equal Opportunities Commission, and managed to have this decision overturned in 1998.
Couch's first major success occurred in only her fifth professional fight in 1996, when she won the WIBF light welterweight title by outpointing France's Sandra Geiger over ten rounds in Copenhagen, Denmark. Couch's first defence of her title was against noted female boxer Andrea DeShong, who was stopped in seven rounds in New Orleans, Louisiana in March 1997. In September 2003, at the Staples Centre, Los Angeles, California, Couch lost on points over eight rounds to the highly regarded Lucia Rijker of Holland. Her last fight, against Anne Sophie Mathis on 8 December 2007, resulted in a loss by technical knockout.
She announced her retirement on 1 December 2008, saying she intended to continue as a boxing promoter. At the time, she remarked, "Boxing has been my life for a long time and it always will be, but I'm not going to miss getting my head smashed in."  She was honoured with the MBE by Prince Charles in 2007.
Ad blocker interference detected!
Wikia is a free-to-use site that makes money from advertising. We have a modified experience for viewers using ad blockers

Wikia is not accessible if you've made further modifications. Remove the custom ad blocker rule(s) and the page will load as expected.