Bottled water from the Spa, about 1900, is on display in the 'Places to Live and Enjoy' case in the Places Gallery. Information also on ICT.
Before the Spa - the Hot Well
The Hot Well was not easily accessible. The water sprang from the Avon riverbed and became one with the river at high tide. There was no easy approach by land as it was cut off by the face of St. Vincent's Rocks.
A rocky and steep-winding and craggy way - near 200 slippery steps" was cut into the Rocks. In
1662 a carriage road was cut out of the rock along the riverside (
1
)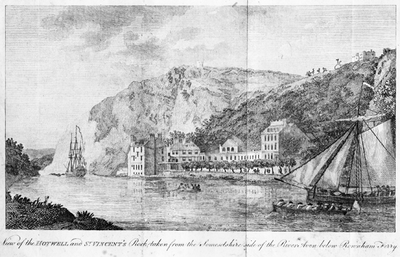 'Hotwells' is plural because a second spring - The New Hotwell - was discovered further down the river by the 18th Century. It now feeds a drinking fountain on the Portway (1)
" The water contains nothing but a little salt, and calcarious earth… as can have very little, if any, effect."
Squire Bramble in Tobias Smollett's Humphry Clinker, 1771
The Hotwells Spa
The warm-water springs at Hotwells was developed into a fashionable resort from 1695, by the Bristol Society of Merchant Venturers. The water was enclosed and pumped up into 'Hotwell House'.
The spa's pump house, lodges, ballrooms, pleasure garden and shops, remained a place for the rich and famous until the 1790s, when interest declined and war with France halted the development of Clifton. By the time peace came, spa's had fallen out of fashion. The Hotwell House was demolished in 1822 to make way for a new road. A new pump room was built with a suite of a baths, but the spa never regained popularity. The spring was eventually demolished in 1867 for a widening of the River Avon to improve navigation (1)
Belief in the springs healing qualities
By the 17th Century we know that the Hot Well attracting 'invalids'. The Spa was claimed to cure many diseases, including Tuberculosis (then known as consumption), which was deadly before antibiotics. 
John Wesley, the founder of Methodism, contracted consumption, and he visited the Hot Well in 1754.  
"Wesley drank from both springs, but favoured the New Hotwell, where he could be free from noise and hurry. Indeed it was so isolated that it never had much success as a spa. But here it was that Wesley made a remarkable recovery. We may wonder whether the fresh air of Clifton gave more relief to his labouring lungs than the water. But such cures drew many other sufferers, who were generally not so fortunate."
By the close of the century belief in the waters' healing properties was on the wane (1)