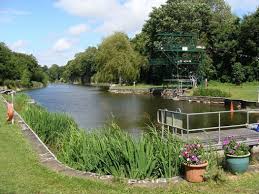 There aren't many people who have the opportunity to swim in the open air in a natural setting so close to the city centre but this is certainly the case at Henleaze Lake in North Bristol.
Dot Ridley, a pre-World War 2 member, commented in 1995 'On a recent visit to Bristol I went to see if it was really like my memory - and it is! Amazingly very little has changed - the same languid, quiet, peaceful atmosphere ...'.
Henleaze Lake is a former quarry that was allowed to flood with spring water. It became a popular place for swimming especially from 1919 under the auspices of Henleaze Swimming Club. The club purchased the lake in 1933 and improved the site over several years with stone banks and diving towers. Championship swimming events, life saving competitions and water polo matches all took place there but activity declined after the 1950s and by 1966 membership had fallen to an all-time low. First the championships stopped and then the water polo. An indoor section continued to thrive however and formally adopted a new name 'Bristol Henleaze Swimming Club' (BHSC) in 1993 although its links with the lake were maintained and competitive Open Water Championships returned there in the late 1990s.
The lake is now almost completely hemmed in by houses and hidden in a wooded setting with a profusion of wild plants, flowers and birdlife - a truly idyllic place to swim.
Ad blocker interference detected!
Wikia is a free-to-use site that makes money from advertising. We have a modified experience for viewers using ad blockers

Wikia is not accessible if you've made further modifications. Remove the custom ad blocker rule(s) and the page will load as expected.