Young people wearing pork-pie hats sang a medley from the film "The Blues Brothers" as the opening number in the 2009 Gang Show. This was the 37th show held since it started as a Scout and Guide celebration in 1971. For many youngsters, it's their first opportunity to sing and dance in public. The event takes place annually in Bristol and in many towns across the UK.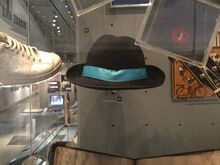 Ad blocker interference detected!
Wikia is a free-to-use site that makes money from advertising. We have a modified experience for viewers using ad blockers

Wikia is not accessible if you've made further modifications. Remove the custom ad blocker rule(s) and the page will load as expected.