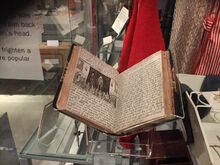 W.H Bow, artist, diarist and professional pallbearer.
William Henry Bow, known as Harry to his family, was the eldest of four children to survive infancy. He was born on the 6th March 1865 to an ordinary family that lived within the framework of a working class environment in Victorian Bristol.
He suffered from deafness and had an intense dislike for attending school on Redcliff Hill. Circumstances did not favour him for a good education. At the age of 16 years, he attended art classes and produced numerous watercolour paintings. Later in his youth he turned his hand to pen and ink drawings, depicting local scenes from which he received many commissions.
He kept a remarkable Victorian diary with over 90 fascinating events and happenings in and around Bristol. The diary is now displayed at Mshed museum in Bristol, in the 'Life' gallery.
Ad blocker interference detected!
Wikia is a free-to-use site that makes money from advertising. We have a modified experience for viewers using ad blockers

Wikia is not accessible if you've made further modifications. Remove the custom ad blocker rule(s) and the page will load as expected.