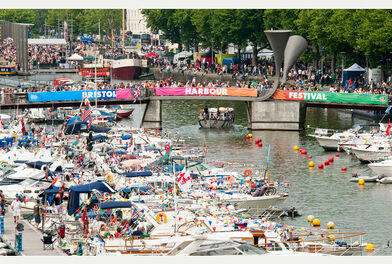 With music, dance, circus performances, street theatre, a French market, local craft stalls, and a grand firework display, there is something for everyone.
'I love the festival and the fireworks are just brilliant … I'm not so much into the boats, it's the music at the festival that I love.' Emma, 2009
The water is still at the heart of Bristol's Harbour Festival. When it began in 1971 just eight vessels attended, but today it's one of the UK's largest waterside events.
'We were thrilled by it all … It's great to walk around the lovely harbour area and see all the different acts … the food from around the world, the flotilla of ships, the fireworks, the market stalls. The atmosphere is really good.'
Lorne,2009