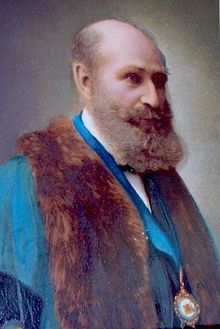 This person is on display in the
Contributing Wrap
in the
People Gallery
(1824-1890)
Mine owner, lay preacher and Liberal politician
Handel Cossham was born in Thornbury, Bristol in the same house as his father and grandfather. His father was a carpenter and builder who named him Handel after the famous German composer. He was described as a 'Non-conformist Preacher, Industrialist, Geologist, Politician, Educationalist and Public Benefactor' on a plaque at his birthplace on the High Street in Thornbury.
Cossam married Elizabeth Wethered in 1848 and opened Parkfield Colliery at Pucklechurch in 1851. In partnership with Elizabeth's family, they opened up a number of coal pits and collieries. As a considerate employer, he built houses and a school for his colliery workers, making sure they had suitable and safe working conditions.  Cossam also built the British School in Thornbury in 1862 and donated Cossam Hall as a gift to his local area in 1888.
He represented St Paul's ward on Bristol City Council as a Liberal during the 1860s, and was Mayor of Bath from 1882 to 1885. In the 1885 general election, he was elected Member of Parliament for Bristol East and retained the seat in 1886.
In 1890, an estimated 30,000 people lined the streets on the day of his funeral.  Cossham instructed that his estate be used as a hospital: the Cossham Memorial Hospital in Kingswood is still used today.
Ad blocker interference detected!
Wikia is a free-to-use site that makes money from advertising. We have a modified experience for viewers using ad blockers

Wikia is not accessible if you've made further modifications. Remove the custom ad blocker rule(s) and the page will load as expected.