This painting by Megan Davies hangs in the Mshed Life Gallery above a display table which has 4 places set in four different historic periods : medieval 1350, Ashton Court 1640, post-war 1948, Victorian1880.
So the scene is set to place the painting into context and the current times : Two teenage brothers, Najahf and Salim, are concentrating intently on the video game ' Gran Turismo' . It was a typical Sunday afternoon's entertainment when they visited their grandmother.
The artwork prompts questions about family mealtimes and TV dinners, IT games and leisure activities, generation gap and communication, as well as cultural and historical changes around 'shared time'.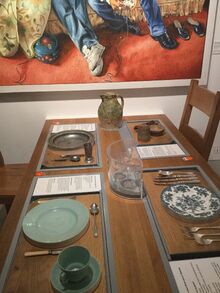 On the explanatory plaques correlating to the plates on the table are questions as : What's on my plate ? What's the conversation ? And one wonders what would the answer be were these applied to ' Gran Turismo' . . .
Ad blocker interference detected!
Wikia is a free-to-use site that makes money from advertising. We have a modified experience for viewers using ad blockers

Wikia is not accessible if you've made further modifications. Remove the custom ad blocker rule(s) and the page will load as expected.