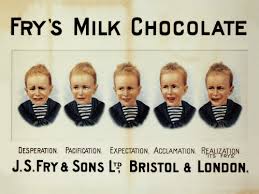 Now best known for their Chocolate Cream and Turkish Delight, the famous firm of J.S. Fry & Sons began with one Dr Joseph Fry producing chocolate in his premises on Small Street in Bristol in the late 1750's.  By the close of 19th century the company, trading as J.S. Fry & Sons, had become a vast presence in the centre of the city.  In 1847 Fry's produced the first solid chocolate bar for widespread consumption, and in 1902 they began selling the UK's first milk chocolate - 3 years before Cadbury's Dairy Milk was introduced.  Fry's branded their new product as 5 Boys Milk Chocolate, linking it in the consumer mind to the trusted 5 Boys (dark) chocolate they had already been producing for some years.  The famous advert shows a young boy's face passing through 5 expressions of 'Desperation, Pacification, Expectation, Acclamation and Realization' as he eats his Fry's chocolate.   The image was reproduced as a postcard and sold widely at food and industry exhibitions during the Edwardian period.  5 Boys chocolate was produced until the early 1970's.  Fry's is now part of Cadbury Schweppes
Ad blocker interference detected!
Wikia is a free-to-use site that makes money from advertising. We have a modified experience for viewers using ad blockers

Wikia is not accessible if you've made further modifications. Remove the custom ad blocker rule(s) and the page will load as expected.