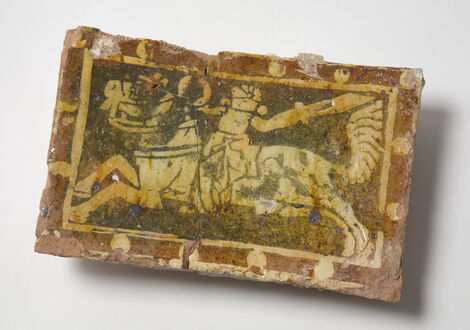 This object is in the Places Gallery
Muslim leader, Saladin. It is believed to be one of a pair of tiles, which represent King Richard I (Lionheart) and Saladin.  Each tile showed a warrior on horseback facing the other and wielding a sword.  Richard attacks from the west and Saladin from the east.
Saladin was a great Muslim leader who amongst other things united and led the Muslim armies during the Crusades and recaptured Jerusalem. Medieval writers held him in great esteem as his behaviour, diplomatic skills and military prowess matched the highest standards of chivalry.
The tile was almost certainly produced locally in a Somerset kiln. Similar designs have been found in many medieval religious houses, most notably Glastonbury Abbey. It is likely the tile came from the Carmelite friary known to have existed on the site dating back to 1256.
 It is one of the earliest images relating to the Muslim world found in Bristol.
Ad blocker interference detected!
Wikia is a free-to-use site that makes money from advertising. We have a modified experience for viewers using ad blockers

Wikia is not accessible if you've made further modifications. Remove the custom ad blocker rule(s) and the page will load as expected.