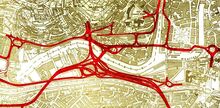 The plan ... will probably be considered as embracing ... every improvement of the harbour of Bristol which has heretofore been suggested ... It may, when matured and finally adjusted, be considered as the most perfect.
William Jessop, 1802
For centuries, ships relied on the tidal current of the River Avon to carry them to and from Bristol but during the latter half of the 1700s, the number of ships using Bristol doubled.
While the port remained tidal, it couldn't cope with this volume of shipping efficiently and reached crisis point in 1788.  Several engineers had suggested solutions by then, but none were deemed suitable until 1803 when William Jessop's plans were finally accepted. Work started in 1804, to turn two miles of tidal river into a non-tidal 'floating harbour' where ships could stay continually afloat. When it opened on 1 May 1809 it was the largest artificially enclosed stretch of water in the world. The biggest man-made feature, however, was the 'New Cut', originally suggested by William Milton, vicar of Temple church in the 1790s. Milton realised that damming the tidal river would remove its current and make it more difficult for ships to get in and out of the Harbour and so he proposed creating a tidal bypass. Jessop's scheme adopted  and improved Milton's ideas but Milton had to lobby hard for recognition of his contribution.
In Jessop's original design, the Avon would be dammed, with an 'overfall' weir at what is now the Underfall Yard, in order to set the water level. To solve the problem of silt build up, Isambard Kingdom Brunel revised the design in the 1830s by replacing the 'overfall' weir with 'underfall' sluices.
In creating the Floating Harbour, Jessop also created Spike Island, the name given to the piece of land situated between the Cut to the south, and the Floating Harbour to the north. Spike Island was a true Island, completely bounded by water from all sides until the Second World War, when Bathurst Basin lock was filled in with concrete. It was feared that the lock left the docks vulnerable: if it was bombed it could drain the Harbour Into the Cut.
The Floating Harbour preserved Bristol's commercial heart and gave it scope for expansion over the next 150 years.
</p></p>Photos:
</p>
Plan from the Casson-Conder report of 1972 on Bristol Docks showing the impact of all the then proposed road schemes in the area
</p>
Jessop's 1802 plan
</p></p>