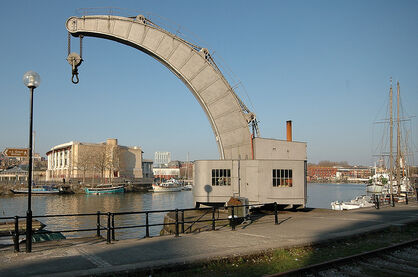 === The banana-shaped Fairbairn steam crane was built in Bristol by Stothert & Pitt, to a design patented by Sir William Fairbairn. Erected in 1878, it is a scheduled ancient monument and the oldest surviving exhibit of its type in Britain. The crane's strength lay in its distinctive curved jib, which was made of wrought-iron plates riveted together to make an immensely strong tubular-section girder, enabling it to lift up to 35 tons (35.56 tonnes). When the City Docks were closed to commercial traffic in 1973 the crane became the responsibility of Bristol Museum. It has now been restored to full working order and can be seen in operation on occasional weekends. ===
Ad blocker interference detected!
Wikia is a free-to-use site that makes money from advertising. We have a modified experience for viewers using ad blockers

Wikia is not accessible if you've made further modifications. Remove the custom ad blocker rule(s) and the page will load as expected.