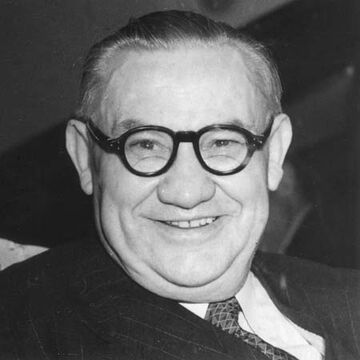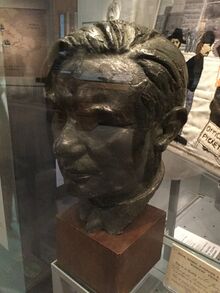 This person is on display in the Contributing Wrap in the People Gallery
A bronze bust of Bevin by Edwin Whitney-Smith (1880 - 1952) can be seen in the People Gallery Edit
(1881 – 1951)
Labour politician and union organiser
Orphaned at eight, Ernest Bevin started work on the Bristol Docks at age eleven. He joined the Dockers' Union and was instrumental in setting up the Transport and General Workers' Union. As Minister for Labour during the Second World War, he transformed Britain into a war economy. During his term as Foreign Secretary from 1945, he became one of the most important creators of the post-war world.
Between the 1920s and 1950s, Bevin was a central figure in the British Labour movement and in British foreign policy, serving as foreign secretary in the late 1940s.
Bevin was born on 9 March 1881 in Somerset. At just the age of 11, he started work in the Bristol docks and showed a gift for organisation. He became involved in the Dockers' Union and was instrumental in the creation of the Transport and General Workers Union where he became general secretary in 1922. He brought together men and women from a wide range of jobs into a single integrated union, one of his greatest achievements.
Bevin was a leading figure in the development of Labour Party strategy and ideology, despite being outside of parliament. In 1940, Bevin was appointed Minister of Labour by Winston Churchill in the wartime coalition government. Bevin transformed Britain into a total war economy, where human and material resources were focused on the war effort.
In 1945, Bevin became Foreign Secretary for Prime Minister Clement Attlee. He was the lead in developing the North Atlantic Treaty Organisation in 1949 and aided the US to shape the Marshall Plan in its early stages.