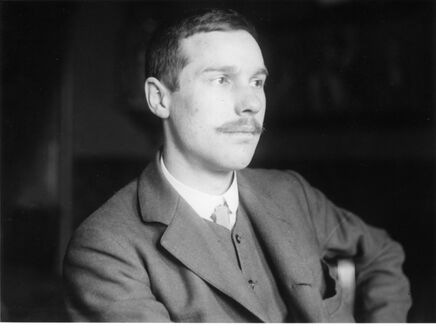 This information is on display in the Moving by Bike section of Places Gallery
Amateur geologist and photographer Eric Evens put a lifetime of effort into maintaining and modifying the beloved bike he bought as a boy.
Born in 1893, he explored large swathes of the West country and beyond on his Humber bicycle, taking pictures and collecting dinosaur bones, volcanic rock, fossils and other geological treasures.  Eric extensively modified and lovingly mended the bike throughout its life to meet his needs - reflecting its vital importance as a means of transportation.
His ingenious home-made accessories included canvas protective covers for the lights, a leather mud flap, a wood and canvas satchel and a rack on the handlebars to carry his wet weather gear, which he also made for himself from waxed cotton and canvas - two pairs of leggings, a raincoat and a cape, to keep him dry and warm in the changeable hillside climate.
Eric Evens graduated from University of Bristol with 1st Class honours in Chemistry and was the manager of a colour manufacturer in Keynsham and a lecturer in chemistry at the University. His chief interests were geology, microscopy and photography. The museum has an extensive collection of geological samples he collected and photographs he took as he cycled around Bristol, North Somerset and the Mendips.
Ad blocker interference detected!
Wikia is a free-to-use site that makes money from advertising. We have a modified experience for viewers using ad blockers

Wikia is not accessible if you've made further modifications. Remove the custom ad blocker rule(s) and the page will load as expected.