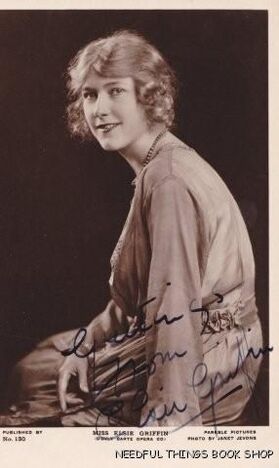 This person is on display in the Contributing Wrap in the People Gallery
(1895-1989)
Elsie Griffin was a gifted singer from a humble background. She attended St Michael on the Mount Primary School and became a soloist at many concerts in Bristol, including a large, 500-voice, temperance choir at the Colston Hall.
Elsie started work as a chocolate-packer at the Fry's factory, where she became one of 'Fry's Angels', singing at morning prayer meetings.  After embarking upon a singing career, she was involved in a lot of concert work and recording. In 1914, she won an award and silver cup at the 'Bristol Eisteddfod', now known as, the 'Bristol Festival of Music Speech and Drama'. She popularised 'Danny Boy' and 'Roses of Picardy' when singing to the British troops in France throughout World War I. 
She became principal soprano with the D'Oyly Carte Opera Company, performing and recording Gilbert & Sullivan's operas for many years.  In 1929, she won 'Best British Gramophone Solo' for her recording of 'Poor Wandering One' from the opera 'Pirates of Penzance'.  She later joined the Carl Rosa Opera Company as principal soprano until the outbreak of World War I Elsie never forgot her time at Fry's and visited the factory and staff, with other members of D'Oyly Carte, when she returned to Bristol.  When Fry's closed in 2011, Elsie's life was displayed in the exhibition. In 2012, Elsie's cousin organised a Blue Plaque in her honour, which was erected on the school she had attended as a child.
Ad blocker interference detected!
Wikia is a free-to-use site that makes money from advertising. We have a modified experience for viewers using ad blockers

Wikia is not accessible if you've made further modifications. Remove the custom ad blocker rule(s) and the page will load as expected.