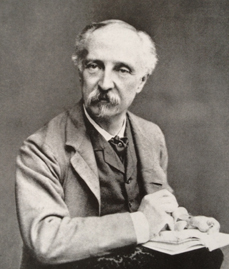 This person is on display in the
Contributing Wrap
in the
People Gallery
(1833–1886), architect and designer
Bristol-born Edward William Godwin was a progressive English architect-designer, whose influence can be detected in the Arts and Crafts Movement that flourished between 1880 and 1910. Apprenticed to an engineer in Bristol, where his architectural training was largely self-taught, Godwin moved to London about 1862, and made the acquaintance of the reform Gothic designer William Burges.
Godwin designed extraordinary buildings, made furniture in the Anglo-Japanese style, and produced wallpaper designs for Liberty's. He decorated Oscar Wilde's apartment, designed costume for the theatre, and wrote extensively on a wide range of subjects ranging from the unity of the arts to the problem of dust in the domestic environment and was a frequent contributor to 'British Architect', a magazine at the time.
After being widowed, he eloped with Ellen Terry, the most famous actress of her generation and they had two children together. Their affair ended when Ellen returned to the stage, prompting Godwin to marry a young designer in his office called Beatrice Birnie Philip, with whom he stayed with until his death in 1886.
Godwin's most notable works as an architect are the Guildhall in Northampton, a new entrance to the Fine Art Society in Bond Street, London, and restoration and additions to Drormore Castle in Limerick and Castle Ashby in Northamptonshire. In 1877, he designed a house in Chelsea for fellow artist, James Whistler.