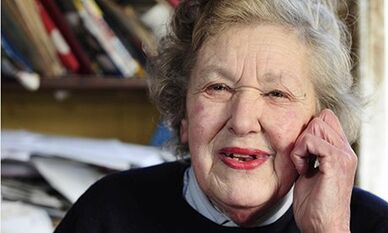 This person is on display in the Contributing Wrap in the People Gallery
(1927-2013)
Born 1927, Dorothy Brown grew up in Berwick-upon-Tweed, and moved to Bristol in 1954 where she fell in love with the city.
In 1971, Dorothy Brown established the 'Bristol Visual and Environmental Group' created primarily to stop the demolition of hundreds of buildings with great historic significance. Along with fellow trust members, she directly saved and restored key historic buildings in Bristol including two houses in St Michael's Hill, several buildings in Old Market, and the Chesnuts in Brislington, as well as a merchant's house and coach house in Frome. In 1984, she bought Acton Court in Iron Acton, now regarded as one of the most important Tudor buildings in Britain.
Throughout her career, she wrote extensively; some of her publications include, 'Rediscovering Acton Court and the Poyntz Family', 'Canons' Marsh', 'Avon Heritage - The North: The Vale and the Forest', 'Just look at Bristol!', and 'Bristol and How it Grew'.
Dorothy showed a total passion and drive for saving Bristol's buildings and she campaigned right up until her death in 2013.
Outside Links
Edit
http://www.theguardian.com/uk-news/2013/nov/04/dorothy-brown-obituary