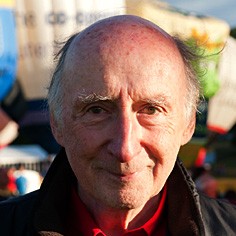 This person is on display in the Contributing Wrap in the People Gallery
The very first modern balloon, the Bristol Belle, was built in 1967 by Don and his friends at the Bristol Gliding Club. A recent engineering graduate, he had moved to Bristol to work for the Bristol Aeroplane Company, a place where many balloonists first started their careers. Its maiden voyage took off from Weston-on-the-Green in Oxfordshire, and modern hot air ballooning was born in the UK.
With no previous experience, Don and his fellow balloonists used trial and error to build and fly their balloons. However, having constructed Bristol Belle, he quickly realised that he could turn his new-found hobby into a business… 'Omega Balloons', later changed to 'Cameron Balloons', was founded.
The business itself has gone from strength to strength, and now resides in Bedminster, near the Bristol International Balloon Fiesta site at Ashton Court. Don decided to start the annual balloon flying event for his own amusement, however it is now internationally recognised and attracts pilots and audiences from around the world, making Bristol synonymous with  the home of modern hot air ballooning.
Don has also daringly flown across the Atlantic. He designed and built flying equipment used to break world records, including a balloon that circumnavigated the globe, and a balloon and basket that allowed Tim Ellison to become the first disabled person to obtain a pilot's license in the UK.
Ad blocker interference detected!
Wikia is a free-to-use site that makes money from advertising. We have a modified experience for viewers using ad blockers

Wikia is not accessible if you've made further modifications. Remove the custom ad blocker rule(s) and the page will load as expected.