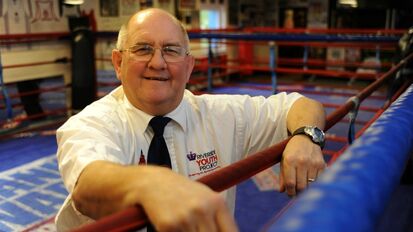 This person is on display in the Contributing Wrap in the People Gallery
(1955 - )
As director of The Riverside Youth Project, Dennis has encouraged many young people to reach their potential by involving them in sports and education projects. Under Dennis's leadership, the club, formerly known as the Broad Plain Boys Club, has received national recognition for the positive impact it is having on young people from inner-city areas of Bristol who might otherwise lack direction and focus or who might be excluded from school.
Dennis' involvement with young people has been extensive and productive: he worked 20 years as a Senior Residential Social Worker, including Housemaster, at Kingswood Training School;15 years as Officer-in-Charge of the Home Office Junior and Senior Mixed Attendance Centres in Bristol;10 years as Centre Director of the Riverside Youth and Education Project; 33 years as Leader-in-Charge of the Broad Plain Club,15 years as Honorary Medical Registrar for the Western Counties Area of the Amateur Boxing Association and Life Vice-President of the Cadbury Heath Youth Football Club.
Dennis was awarded an MBE in 2004 and an honorary master's degree from the University of Bristol in 2010 for his service to young people.
In 2014, the national media reported how Dennis had moved a new mural, 'Mobile Lovers', painted by the internationally renowned artist Banksy, from a wall in Clement Street near to the Riverside Project, which sparked an ownership dispute with Bristol City Council. Dennis' intention was to prevent the artwork being damaged or stolen and to raise money for the Riverside Youth Project by inviting the public to view it for a donation. Banksy took the unusual step of writing a letter to Dennis stating "As far as I'm concerned you can have it." The youth club sold the artwork to a private collector for £403,000. Dennis welcomed the sale and thanked Banksy for saving the cash-starved youth club.