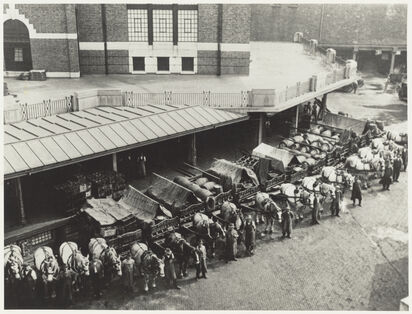 It was a very a sad day for us - the end of years of tradition.  I think we had just six dray horses by then, and they were all retired together. The dray horses were popular in Bristol. They were a common sight in the city. Customers at the pubs where they made the deliveries were very fond of them and knew them by name.
Stuart Hadley, 2009.
Despite the introduction of cars and lorries, businesses of all sizes still used horses and carts to deliver goods locally in the early 1900s. Tramping through the heart of the city hauling up to five tons of cask and bottled beer, "Georges' Greys" were a regular feature in Bristol for more than 150 years. It was the job of these sturdy horses to pull dray carts piled with city-brewed ales to scores of pubs. But like so many other long held traditions the dray horses became a victim of progress and they delivered their final barrel of local beer in Bristol in 1962.
Ad blocker interference detected!
Wikia is a free-to-use site that makes money from advertising. We have a modified experience for viewers using ad blockers

Wikia is not accessible if you've made further modifications. Remove the custom ad blocker rule(s) and the page will load as expected.