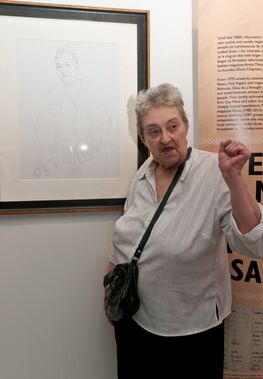 This person is on display in the
Contributing Wrap
in the
People Gallery
(1941 - )
Equal rights activist
Born in Bristol during the Second World War, Dale married and had two children before the marriage broke up. She moved to London to work as a prison officer, and fell in love with a woman although no romantic relationship followed.
Dale returned to Bristol in the early 1970s where she came out on the gay scene, and then became an activist in the Women's Movement. She co-founded 'Move' magazine and began to attend a Gay Women's Group meeting in Clifton. The constant phone calls received at the premises from gay men and lesbians alike, caused her to realise the need for a sympathetic ear and more information and support. She founded the Bristol Gay Switchboard at her home 1975, using her own private phone line. For the next three years she operated the switchboard from her home with volunteers taking calls during advertised hours and Dale picking up calls at other times, including the night. In 1978, Switchboard moved to new premises at Bristol Gay Centre, although Dale remained involved until the early 1980s, and she later helped to organise Bristol Lesbian Line. Dale has also additionally worked as a teacher, a nurse and in later years in accounts.
Ad blocker interference detected!
Wikia is a free-to-use site that makes money from advertising. We have a modified experience for viewers using ad blockers

Wikia is not accessible if you've made further modifications. Remove the custom ad blocker rule(s) and the page will load as expected.