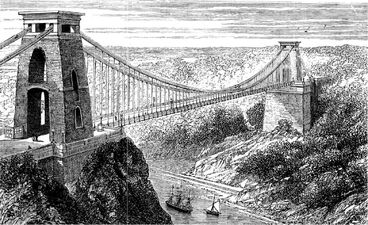 In 1754, merchant William Vick left £1000 (about £135,000 today) with instructions that the money should be invested to build a bridge across the Avon Gorge. Seventy-seven years later, it had earned enough interest to pay for one. A competition was launched to find a design in 1829. It was eventually won by the young Isambard Kingdom Brunel with a stunning (and some said impossible) suspension-bridge concept.
The famous Clifton Suspension Bridge, which spans the spectacular Avon Gorge, is one of Bristol's iconic symbols and, perhaps, the most easily recognised visual image of the city. It is a Grade I listed structure and was designed by Isambard Kingdom Brunel. Work began on building the bridge in 1831 but it was so hampered by political and financial difficulties that by 1843 the project was abandoned, with only the towers on either side of the gorge completed. Brunel did not live to see his creation finished, but the bridge was completed and finally opened in 1864, as a memorial to him.
The bridge spans 214 metres between its two 26 metre high towers and stands 76 metres above the high water mark of the River Avon. Although originally designed for pedestrian and horse-drawn traffic, it still meets the demands of motorised traffic and is part of a busy commuter route in and out of the city.